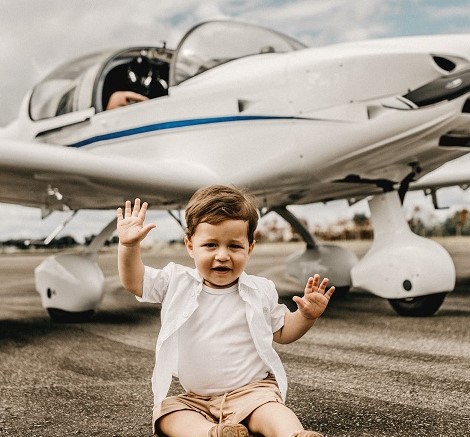 Are you thinking about your dream holiday? 
Imagine the new sights, sound and taste of the gastronomic adventure you will embark on once you reach your destination. 
But if you have kids, you will need to survive the journey first!
Are you planning a family holiday but dread to think of the long-haul flight with your toddler or pre-schooler? 
I live in a regional area so every family holiday is always a long trip, even if we are only flying within Australia. 
Do this often enough and finding ways to entertain my child on the flight is one of the most important things to master. 
Don't really want to break your reduced screen time rule and allow your child to watch back to back videos on the plane? 
If you are like me and want to travel light and comfortable, you would also want something small enough to fit your carry-on and mess-free so you don't need to change your child's clothes in the tiny cabin toilet.
Small craft items are perfect to bring on the plane and to use in many different ways. All you need is a bit of creativity. 
See below for my list of favourites to break up the monotony of a long flight. You can also use them to teach your child a second language.
1)  Playdough/clay
Playdough is so versatile and it comes in a tiny plastic container which will add hardly anything to your luggage weight.
Let your child's imagination run wild and let her mould different items on their tray table. 
Playing with playdough allows your child to explore their environment using their senses.
Playdough also helps strengthen little fingers and wrists, making it beneficial for their fine motor development. 
Practise saying the words in a second language. 
If you are not sure what the words may be, you can even save PDF versions of cheat sheets on your phone which are accessible off-line and refer to them. 
Encourage your child to say the words and mould the items.
My child Nadia loves to mould the playdough into jewellery to wear on her wrist and ankles and even use it as nail decals for both fingers and toes. 
Be aware though that you may need a visit to the bathroom to wash their hands after they have finished  playing. 
Also, playdough may not be mess free for every child.
If you know that your child will throw the playdough around the plane  (possibly at other passengers), this may not be the right activity for you.
For more ideas on fun activities with your kids, sign up to our blog here. 
2)  Post-it notes
Small post-it notes are entertaining for your child and not very heavy to bring.
A single pen is enough for you to turn them into a game.
Draw an item you have both learnt the words of and get your child to guess what they are in the second language. 
If they get it right, they get to stick the post-it notes around their seat. 
You can then say the words and your child have to guess which drawing they relate to before they are allowed to remove them. 
Just remember to actually remove everything afterwards!
For more ideas on fun activities with your kids, sign up to our blog here. 
3)  Finger puppets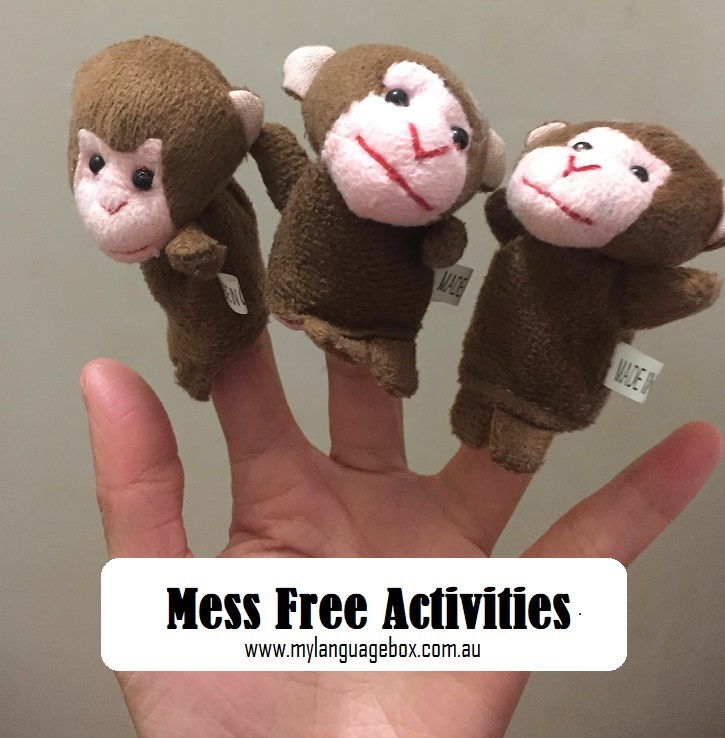 You can bring finger puppets and use them to tell a story or sing a song. 
Nadia loves the little monkey puppets which can be used to sing the rhyme involving monkeys jumping on a bed and monkeys swinging in a tree. You can also change the words of "five in a bed" or "five little ducks" to whatever animals you have. 
They are both entertaining and provide counting practice.
For more ideas on fun activities with your kids, sign up to our blog here. 
4)  Airplane paper bag
Use your pen to make an animal or doll puppet out of the airplane seat waste paper bag.
Use them to sing entertaining songs or get your child to act out a scene of their choosing. 
If I can't remember the lyrics of a song or nursery rhyme in a second language I like to sing the song in English but replace certain words in the second language. 
This way your child will get the idea of what the word actually means through the context of a familiar nursery rhyme. 
Use the puppet as an opportunity to point out facial parts both on the puppet and on yourself and your child.
For more ideas on fun activities with your kids, sign up to our blog here. 
5)  Coloured pom pom balls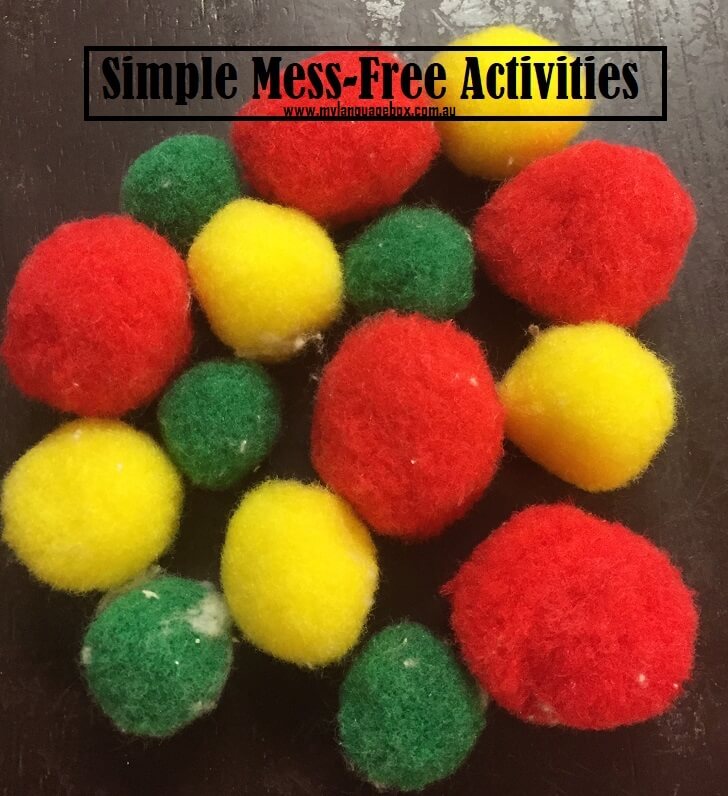 Small coloured pom pom balls are fairly light. Try to store them in a small old container which does not take up too much space in your bag. 
You can cut holes in the lid before your trip so that your child can push them through the lid as a game. 
If the balls are of different colours or shapes you can practise their colour and shape knowledge in their second language. 
Your child can also count them as they push the balls back into the container. Warning: only choose the pom pom option if you know your child is not interested in throwing them around. 
Even if you don't care about reusing the balls afterwards, it is not fun contorting your body to pick them up from the floor.
For more ideas on fun activities with your kids, sign up to our blog here. 
6) Flash cards
Flash cards are perfect for teaching your child a language but they fall in the 'could be too heavy category' if you bring too many as they would have to be laminated or made of heavier cardboard to be durable.
 A useful tip is to only bring five cards at the most but with multiple aspects to the card. 
For example, if the card is about a girl dancing, you can use this as an opportunity to talk about the colour of her hair, what she is wearing, her body parts etc as well as the action itself.
7) Stickers
Stickers are lightweight and are usually a hit with pre-schoolers especially if they are colourful. Bring a few stickers and let your child go wild and stick them on themselves and around their seat. 
Similar to the post-it notes, just remember to remove them afterwards. 
You can also bring a small glossy cardboard which can be used as a sticker board so they can put the stickers on and off if you would like to re-use them more than once.
For more ideas on fun activities with your kids, sign up to our blog here. 
If you would like to start teaching your children a second language now, try out our Language Boxes.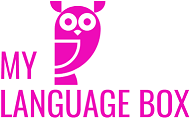 My Language Box is a bi-monthly subscription service aimed at teaching kids between the ages of three and six how to speak a second language.
Create special moments with your child while playing and learning together.
My Language Box includes all the materials, activities, instructions and audio required.