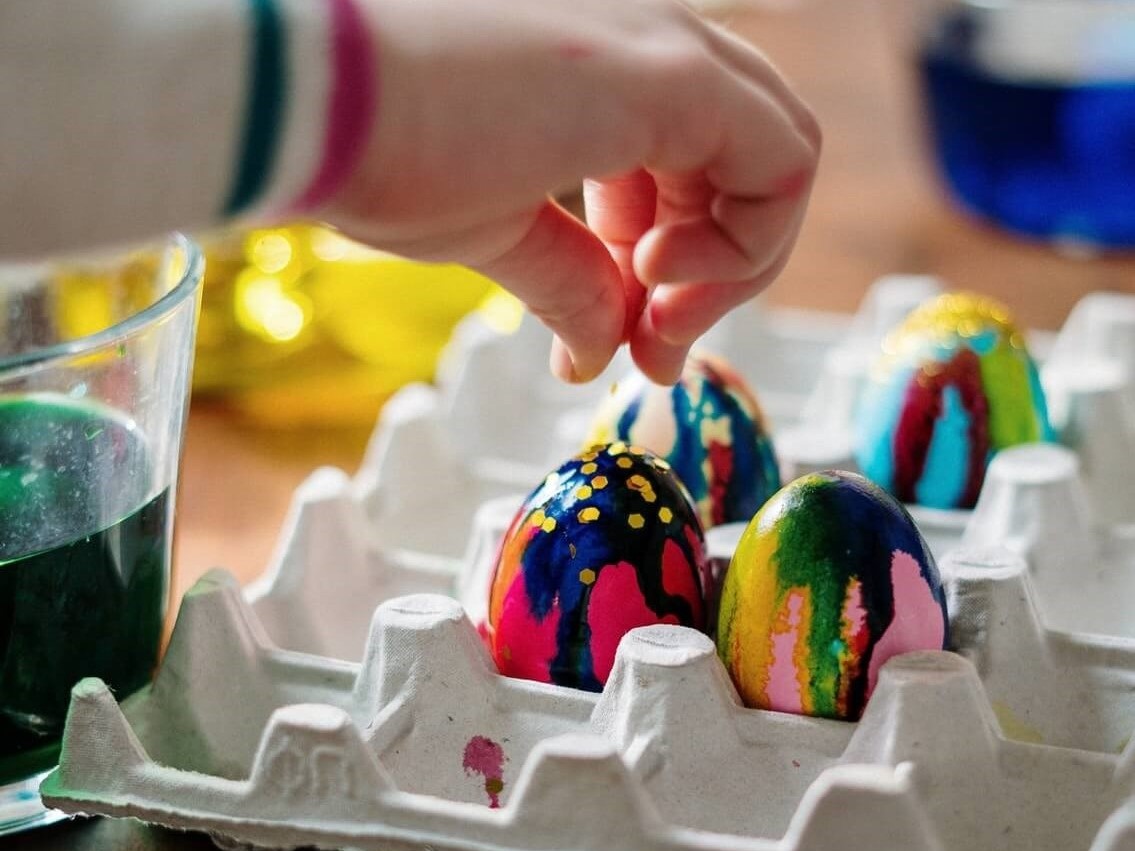 We love our eggs in our house and we are so fortunate that we have neighbours who gift us with fresh organic eggs from their own chickens. 
We recycle our egg cartons by giving it back to them but we somehow always have extra to spare, which I keep in our craft box for 'just in case'.
That 'just in case' time is here with us staying at home in our bid to stay away from the Covid-19 pandemic that is looming upon us right now.
I know some of you are anxious at the uncertainty, some of you have lost your jobs and some of you are cracking your brains on how to entertain your kids while they are not at school.
Just know that you are not alone - reach out to your community.
Even though we have to be socially apart, we can still communicate.
The best way to get through this period is to keep yourself and your kids busy.
The activities below won't cost you much, especially if you already have the miscellaneous craft materials at home. 
If you don't, just improvise. 
No paints? Do what we did in the number counting game below and tear coloured paper or brochures into pieces to glue.
No pom poms for the ice cream game? Use play dough or scrunch up paper to make the ice cream. 
Don't take the risk of going out and getting any items that are missing, your child will be happy regardless.
All they will remember is the quality time spent with you, not what the end result looked like. 
Sign up to My Language Box for more craft ideas and activities. 
1) Egg carton tree craft  
 
This is a really simple craft, all you need is some cardboard paper.
I used the inside of a cereal box for this, an egg carton and some paint. 
Draw a tree trunk and paint it. Again, if you don't have brown paint, don't stress.
You can use crayons, colour pencils or marker pens too. 
Cut the egg carton into individual pieces, turn them around and glue to the tree trunk.
It doesn't really matter how many pieces you use, you can either do a smaller tree or larger tree.  
I painted the tree with green paint but you can paste green paper on it or use marker pens if you don't have paint in the house (or even food colouring if you have some). 
Sign up to My Language Box for more craft ideas and activities. 
 2)  Counting egg craft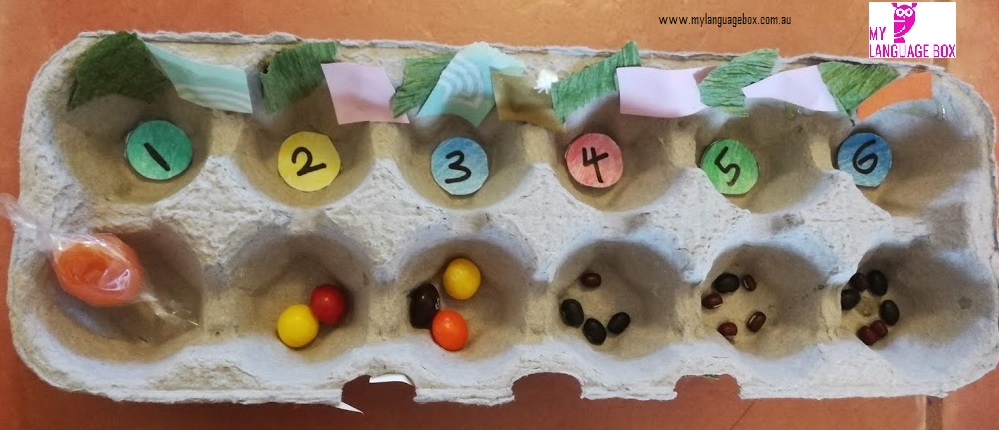 Cut out little numbers from 1 to 6 and then look around the house for small items you can use.
I already had the lollies in my house (Nadia loved eating them after we finished the activity!)
I also used red and black beans from my pantry. 
You can be creative and use small pom poms, pasta, rice, dried chickpeas, pearl barley - anything that will fit into the egg carton. 
Get your little one to practise their counting and mathematical skills as well.
If you have extra paint at home, you can also decorate the egg carton.     
We tore our leftover wrapping paper into little pieces and glued them to the egg cartons as decoration.
It was a simple activity but Nadia loved glueing the pieces of paper to the egg cartons. 

Sign up to My Language Box for more craft ideas and activities. 
3) Use the egg cartons as storage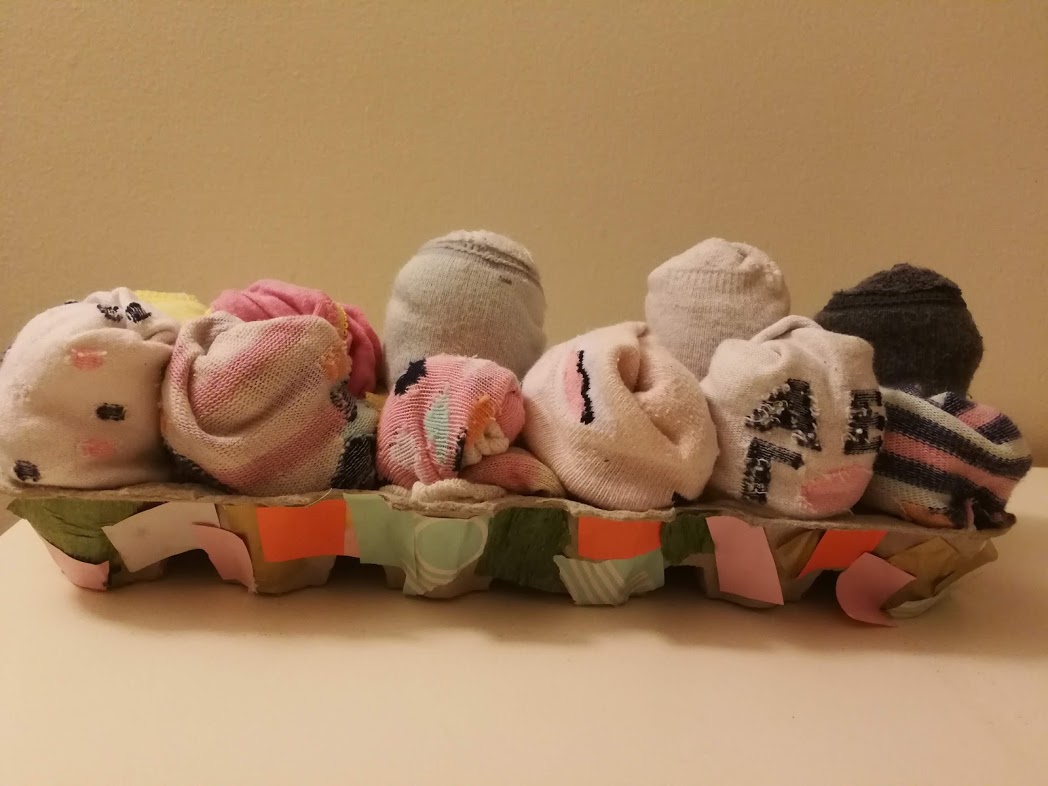 This is  more of an idea of how you can recycle your egg cartons even further to act as storage. 
If you have extra egg cartons you can go through the process of decorating them nicely with paint, wrapping paper, stickers or sequins - whatever you have available.
I just re-used the egg carton after the counting egg craft activity above.
Egg cartons are a great way to store children's socks or small underwear so they are easy to find and are not easily lost.
Nadia even helped me sort her socks out and we put it into the egg cartons together.
No more digging for socks when it's time for daycare!
Sign up to My Language Box for more craft ideas and activities. 
4) Ice cream for sale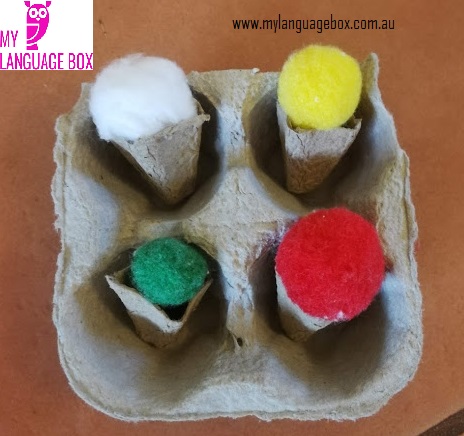 This was the activity with the least amount of work but the one that Nadia loved the most.
The top end of the egg cartons can be cut off to make ice-cream cones.
You can also decorate the egg carton if you like or make an 'ice cream for sale' sign.
I used pom poms as the ice-cream but you can also use play dough or even coloured paper.
Children love play-acting and the act of buying and selling ice-cream. 
For more craft posts, articles about learning a second language and musings about parenting in general, follow our blog
My Language Box is a bi-monthly subscription service aimed at teaching kids between the ages of three and six how to speak a second language.
 Create special moments with your child while playing and learning together.
My Language Box includes all the materials, activities, instructions and audio required.