Want to help your kids develop and learn faster?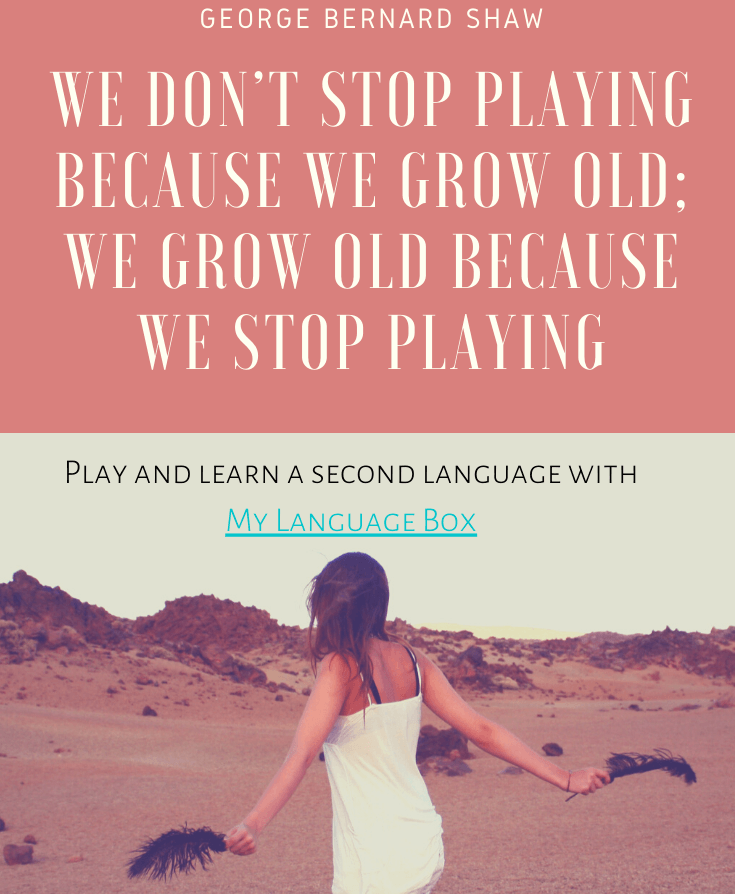 Not just academically but also physically, emotionally and socially. 
This is the breakthrough element that we focus on at My Language Box to help kids learn a second language. 
How do you help support your kids growth?
Through old-fashioned play.
What is play? 
There is no one definition but it can be described as an enjoyable activity requiring action with materials, people, ideas or the environment[1].
It has to be self-chosen (the child has the freedom to quit) and focus is on the creation or means, not the ultimate goal.
There is a reason why the Early Years Learning Framework and the WA Play Strategy endorses play as a method for children's learning. 
Play is very important to a child's healthy development. They are on the journey to developing important skills for the future and nurturing their brain. 
What's the secret to contented children? 
Play helps children build confidence, feel loved and happy. 
In fact, the United Nation Convention on the Rights of the Child (United Nations General Assembly, 1989) recognizes children's right to play in order to maximize their potential and develop a foundation across all developmental domains for future success in learning.
" Play is the highest form of research."  -Albert Einstein

 

 
Children learn by playing because they need time to figure things out on their own. 
Playing allows them to discover their own body and their surroundings. 
Playing encourages different important types of development – physical development, emotional development, social development and cognitive development.
The activities in My Language Box incorporates all the different types of development in the main form of learning a language through play.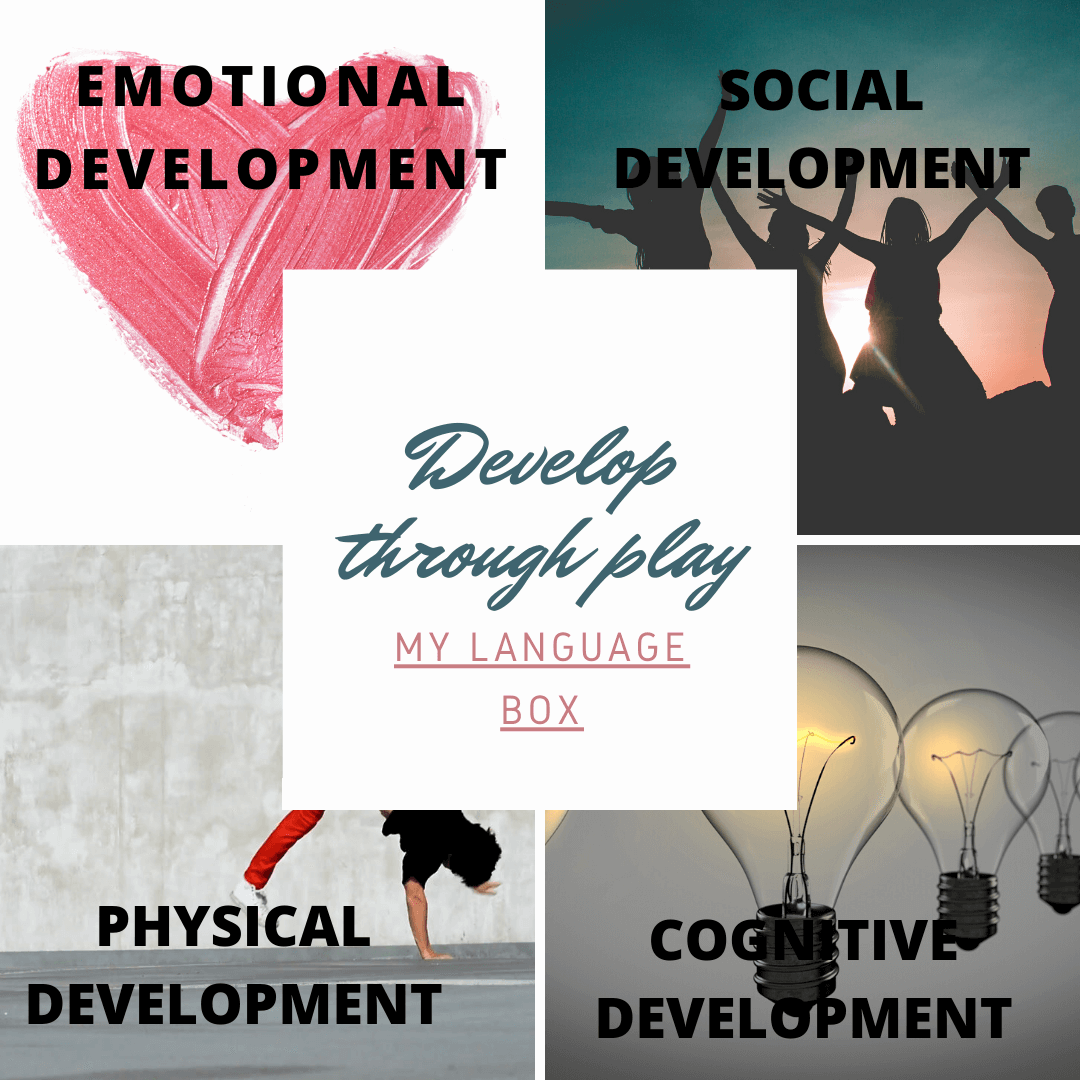 1) Physical development
Physical development involves development of large muscle control, strength and stamina. 
Physical development includes sensory development where your child discovers how things feel using different parts of their body. 
They use their ears to listen to the nuances of language and use their eyes to capture images. 
Craft is a really good way to develop sensory skills as your child will use their little hands while practicing their hand-eye coordination. Read here for an article on how to save time preparing for craft activities. 
There is a large emphasis on touch and exploring in craft where a child learns about shapes, size, weight and texture through the different materials used.
My Language Box also has extension activities like 'Simon Says' which encourages active listening and improving memory skills as well as physical play activities with lots of movement opportunities.
Craft and activities requiring concentration assist with eye-hand co-ordination and fine motor development whereas more physical movement activities assist with eye-foot co-ordination.
Both of these skills are important in everyday life tasks such as bathing, dressing, eating and sport. 
Playdough, a material we use in My Language Box is good for developing fine motor control skills. 
Working with glue also assists with physical development as it is difficult for small, clumsy fingers.
Check out our craft boxes at My Language Box
2) Emotional development
Creative art is a great outlet for children to communicate thoughts and emotions as it allows self-expression. 
My Language Box encourages drawing and painting which is a first step towards writing and cutting. They both provide a tactile experience. 
What's the difference between clingy and independent kids?
 Encouraging play and creativity promotes independence which is crucial to confidence and emotional development.
Concentration is also key to emotional development. 
Do your kids lose interest in activities very quickly? 
The tasks in My Language Box are short, in line with children's limited attention span. 
The fun nature of the activities are tailored to promote the child to want to complete them, assisting in promoting development of concentration skills.
If you are needing craft ideas for your toddlers or pre-schoolers, My Language Box has easy craft kits for kids filled with creative activities. 
3)  Social development 
Social development is not just connection with their peers but also connection between your child and you as their parents.
Want to create a long-lasting relationship with your child? 
The time spent playing with their parents will be something they will always remember. 
While playing and talking with you, your child learns that a conversation consists of listening and talking in turns. 
This is why the activities in My Language Box are encouraged to be completed together, not as a babysitting or distraction tool so the parent can go off and do something else. 
The parent's role is to support and encourage your child's play by showing them how to work the materials and to help when they need assistance. 
Creative play is an important part of social development where children amuse themselves with their imagination. 
Anything is possible. 
Craft also assists in learning social skills where your child will need to follow instructions when they are given and wait her turn.
 4) Cognitive development
Your child' brain grows and develops through play. 
Cognitive development relies heavily on the development of language and speech skills. 
Language needs to be heard in order for it to be spoken. 
It is through play that the second language is used and the meaning made clear as the child performs simple tasks in relation to the new words. 
My Language Box focuses on making the child competent in Basic Interpersonal Communication Skills (BICS) which is the everyday social language used in normal situations. 
This can take about one or two years to master. 
That is the first cornerstone if the child then decides to later pursue Cognitive Academic Linguistic Processing (CALP) which is academic learning and can take seven to nine years to master. 
Craft work also assists with visual perception which is the ability of the brain to make contact with the outside world through the eyes and to interpret the image.
Reap the benefits of play while still teaching your child a second language with My Language Box. We provide kid-friendly activity kits to supplement your child's early learning education. You can order here. 
If you are looking for a great Christmas gift or birthday gift for your kids, look no further. Your child will have so much fun they won't even realise they are learning!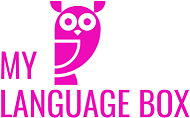 My Language Box is a bi-monthly subscription box service with the aim to help your kids to learn a second language. 
This is the first craft subscription box in Australia that incorporates language learning, making it a great subscription box for kids. 
 Specially curated and tailored to children between 3 - 6 years, the activities are full of fun, excitement and easy kids crafts. 
 Each Language Box has a different theme and includes all the materials, instructions and audio required.
 [1] Jager, M & Victor, L 2013, Play Learn Know a child is a work in progress, Metz Press, South Africa.